Collaborative teaching in the context of an elementary school in Thailand: a case study
Keywords:
Professional Development, Collaborative Teaching
Abstract
This paper reports on a case study conducted in the context of an elementary, private school in Ayutthaya, Thailand.  The subjects of the study were three elementary teachers of grades 1-3.  The study involved professional development workshop in collaborative teaching techniques, their implementation and a subsequent evaluation.  The results of the study illustrate how a collaborative teaching model can serve as a tool assisting teachers in working together and developing skills to support each other.  It appears possible for teachers to maintain their own teaching techniques when working in collaboration with other teachers as confirmed by two evaluations carried out by two head teachers.  Also, the project shows that a collaborative teaching experience can be instrumental in changing teachers' professional beliefs and attitudes.  Classroom observation records revealed that teachers were satisfied with each stage of their collaboration, from planning, implementation, through to evaluation.
References
Boyle, B., While, D., & Boyle, T. (2004). A longitudinal study of teacher change: what makes professional development effective? Curriculum Journal, 15(1), 45-68. doi: 10.1080/1026716032000189471
Davies, P., & Dunnill, R. (2008). 'Learning Study' as a model of collaborative practice in initial teacher education. Journal of Education for Teaching, 34(1), 3-16.
Fearon, K. (2008). A Team Teaching Approach to ESL: An Evaluative case study. (Master's thesis). Union, NJ, USA: Kean University. (No. AAT 1456437)
Hudson, P., & Glomb, N. (1997). If it takes two to tango, then why not teach both partners to dance? Collaboration instruction for all educators. Journal of Learning Disabilities, 30(4), 442-448.
Johnson, D. F. (2008). Fostering the Development of Reciprocal Collaboration between Mainstream Teachers and Collaborating Teachers. (Doctoral dissertation). Retrieved from Proquest Dissertations and Theses. (UMI 3359936)
Johnson, D. W., & Johnson, R. T. (1998). Effective staff development in cooperative learning: Training, transfer, and long-term use. In Professional development for cooperative learning: Issues and approaches, ed. C.M. Brody and N. Davidson, 223-242. New York, USA: State University of New York.
Johnson, D. W., Johnson, R. T., & Stanne, M. B. (2000). Cooperative learning methods: A meta-analysis. Retrieved October 6, 2010, from http://www.tablelearning.com/ uploads/ File/EXHIBIT-B.pdf
Khamanee, T. (2010). Science of Teaching. Bangkok, Thailand: Chulalongkorn University Press. – In Thai-[ทิศนา แขมมณี (Thitsana Khamanee). "ศาสตร์การสอนองค์ความรู้เพื่อการจัดกระบวนการเรียนรู้ที่มีประสิทธิภาพ." กรุงเทพฯ : โรงพิมพ์แห่งจุฬาลงกรณ์มหาวิทยาลัย, 2553.]
Garderen, D. V., Hanuscin, D., Lee, E., & Kohn, P. (2012). Quest: A collaborative professional development model to meet the needs of diverse learners in K-6 Science. Psychology in the Schools, 49(5), 429-443. doi: 10.1002/pits.21611
Krol, K., Sleegers, P., Veenman, S., & Voeten, M. (2008). Creating cooperative classrooms: Effects of a two-year Staff Development Program. Educational Studies, 34(4), 343-360. doi:10.1080/03055690802257101
Little, A., & Hoel, A. (2011). Interdisciplinary team teaching: An effective method to transform student attitudes. The Journal of Learning Effective Teaching, 11(1),
-44.
Lewis, C. (2000). Lesson study: The core of Japanese professional development. Paper presented at the American Educational Research Association Annual Meeting, New Orleans, USA.
Oakes, J., & Lipton, M. (Eds.). (2003). Teaching to change the world (2nd ed.). McGraw-Hill Companies, Inc.
Office of Commercial Services. (2002). Teacher development for quality learning: The Thailand Education Reform Project. Brisbane, Australia: Queensland University of Technology. Retrieved from http://www.edthai.com/publication/0005/fulltext.pdf
Office of National Education Commission. (2010). Potentials of Thai Education in the International Arena. Bangkok, Thailand: ONEC. –In Thai-[สำนักงานเลขาธิการสภาการศึกษา. "สมรรถนะการศึกษาไทยในเวทีสากล" กรุงเทพฯ : สกศ, 2553.]
Office of National Education Commission. (2010). A Report on Brainstorming Conference II on Development of the Thai Education for Quality of Children and Youth. Bangkok, Thailand: ONEC. –In Thai- [สำนักงานเลขาธิการสภาการศึกษา. "รายงานการประชุมเชิงนโยบายเพื่อระดมความคิด การพัฒนาการศึกษาทั้งระบบเพื่อพัฒนาคุณภาพเด็กและเยาวชนไทย ครั้งที่ 2" กรุงเทพฯ : สกศ, 2553.]
Office of National Education Commission. ( 2011). A Report on Implementation of Education Reform in the Second Decade: A Focus on 2009-2011. Bangkok, Thailand: ONEC. –In Thai-[สำนักงานเลขาธิการสภาการศึกษา. "รายงานผลการดำเนินงาน ขับเคลื่อนการปฏิรูปการศึกษาในทศวรรษที่สอง ในช่วง พ.ศ. 2552-2554" กรุงเทพฯ : สกศ, 2554.]
Office of National Education Commission. (2012). A Report on Research and Model Development of School-Based Professional Development of Teachers and School Administrators in Small-Scale Schools: Phase 1. Bangkok, Thailand: ONEC. –In Thai-[สำนักงานเลขาธิการสภาการศึกษา. "รายงานการวิจัยและพัฒนา รูปแบบการพัฒนาครูและผู้บริหารสถานศึกษา แบบใช้โรงเรียนเป็นฐานในโรงเรียนขนาดเล็ก ระยะที่ 1." กรุงเทพฯ : สกศ, 2555.]
Siritharangsi, P. (2010). A Research Report on Thai Education in the Next Two Decades. Bangkok, Thailand: ONEC. –In Thai-[พิณสุดา สิริธรังศรี (Pinsuda Siritharangsi). "รายงานการวิจัย เรื่อง ภาพการศึกษาไทยในอนาคต 10-20 ปี" กรุงเทพฯ : สกศ, 2553.]
Smith, R.R. (2008). Lesson study: Professional development for empowering teachers and improving classroom practice. Florida State University College of Education, Educational Leadership and Policy studies, USA.
Tileston, D.W. (2005). Ten best teaching practices: How brain research, learning styles, and standards define teaching competencies (2nd ed.). Thousand Oakes, CA, USA: Corwin Press.
University of Vermont and PACER Center. (2008). Critical Elements for Collaboration. [PowerPoint slides]. Retrieved from http://www.uvm.edu/~pcl/Module%203%20Critical%20Elements%20of%20Collaboration.ppt
Vygotsky, L. (1978). Mind in society: The development of higher psychological processes. Cambridge, MA, USA: Harvard University Press.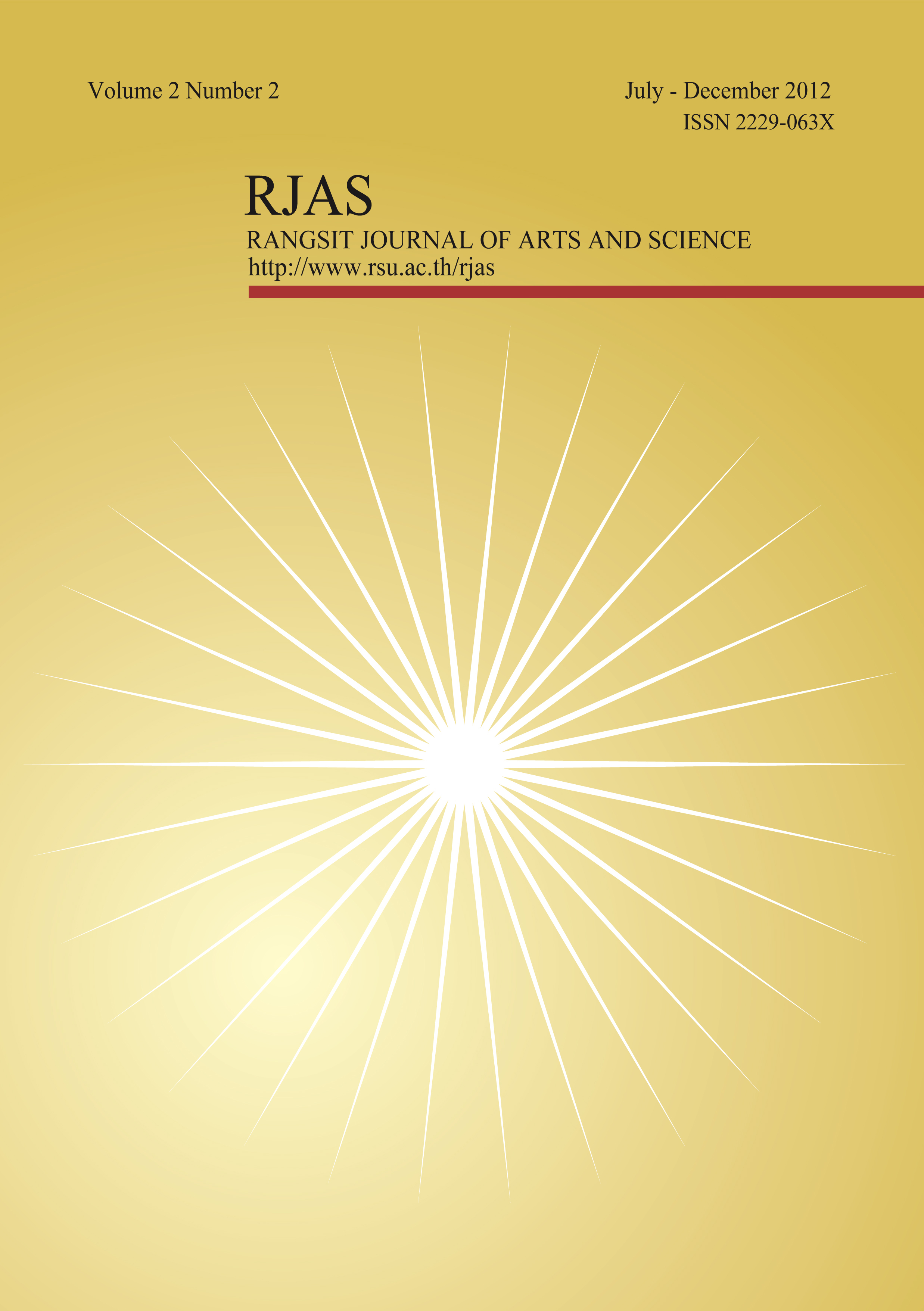 Downloads
How to Cite
Boonprasitt, D. ., & Pholsward, R. . (2023). Collaborative teaching in the context of an elementary school in Thailand: a case study . Journal of Current Science and Technology, 2(2), 99–109. Retrieved from https://ph04.tci-thaijo.org/index.php/JCST/article/view/577
License
This work is licensed under a Creative Commons Attribution-NonCommercial-NoDerivatives 4.0 International License.