The extraction of lipid from microalgae found in brackish water by terpenes
Keywords:
brackish water, extraction of lipid, green solvents, lipid extraction, microalgae, terpenes
Abstract
In this research, terpenes were used to evaluate the extraction of lipids from microalgae found in brackish water.  p-Cymene, α-pinene, and d-limonene terpenes were used instead of petroleum-based solvents, which have a low boiling point and are toxic as well as highly flammable.  The physical and thermal pretreatment method of grinding and then autoclaving at a temperature of 121°C and a pressure of 15 lb/in2 was investigated to enhance the lipid extraction efficiency and excrete the intracellular lipid.  The amount of lipid extracted by p-cymene was 29.23 ± 0.25 % (lipid wt./dry.wt. microalgae), whereas the amount of lipid extracted by n-hexane:methanol 3:1( v/v) was 13.5 ± 0.20 % (lipid wt./ dry.wt. microalgae).  The quantity of fatty acid extracted from the microalgae was determined using GC-MS analysis.  The results showed that the two main fatty acids were palmitic acid (C6H12O2; 16:0) and oleic acid (C18H34O2; C18:1).  There was more palmitic acid (16:0) than oleic acid (C18:1) at 7.70% and 7.08%, respectively.  This research found that using natural solvents to extract lipid from microalgae could be a feasible and sustainable alternative to petroleum solvents which are toxic, environmentally unfriendly and increase greenhouse gases causing climate change.
References
Chen, Z., Wang, L., Qiu, S., & Ge, S. (2018). Determination of microalgal lipid content and fatty acid for biofuel production. BioMed Research International. Article ID 1503126, 17 pages, 2018, 1-17. DOI: https://doi.org/10.1155/2018/1503126.
Cho, K. S., Lim, Y., Lee, K., Lee, J., Lee, J. H., & Lee, I. (2017). Terpenes from forests and human health. Toxicologyg Research, 33(2), 97-106. DOI: 10.5487/TR.2017.33.2.097.
Grazhdannikov, A. E., Kornaukhova, L. M., Rodionov, V. I., Pankrushina, N. A., Shults, E. E., Fabiano-Tixier, A. S., . . . Chemat, F. (2018). Selecting a green strategy on extraction of birch bark and isolation of pure botulin using monoterpenes. ACS Sustainable Chemistry & Engineering, 6, 6281-6288. DOI: 10.1021/acssuschemeng.8b00086
Halim, R., Danquah, M. K., & Webley, P. A. (2012). Extraction of oil from microalgae for biodiesel production: A Review. Biotechnology Advances. 30(3), 709-732. DOI: 10.1016/j.biotechadv.2012.01.001
Ivankovic, A., Dronjić, A., Bevanda, A. M., & Talić, F. (2017). Review of 12 principles of green chemistry in practice. International Journal of Sustainable and Green Energy, 6(3), 39-48. DOI: 10.11648/j.ijrse.20170603.12
Kumar, R. R., Rao, P. H., & Arumugam, M. (2015). Lipid extraction methods from microalgae: a comprehensive review. Frontiers in Energy Research, 2, 1-9. DOI: https://doi: 10.3389/fenrg.2014.00061
Labua, S., Inprasit, N., & Ngamcharoen, W. (2015). Scale-up and cultivation of microalgae from brackish water in Thailand in transparent high density polyethylene bags. Rangsit Journal of Arts and Sciences 5(2):78-91. DOI: 10.14456/rjas.2015.15
Li, Y., Naghdi, F. G., Garg, S., Adarme-Vega, T. C., Thurecht, K. J., Ghafor, W. A., . . . Schenk, P. M. (2014). A comparative study: the impact of different lipide methods on current microalgal lipid research. Microbial Cell Factories, 13, Article No. 14, 14-22. DOI: https://doi: 10.1186/1475-2859-13-14.
Madji, S., Hilali, S., Fabiano-Tixier, A. S., Tenon, M., Bily, A., Laguerre, M., & Chemat, F. (2019). para-menthane as a stable terpene derived from orange by-products as a novel solvent for green extraction and solubilization of natural substances. Molecules, 24(11), 2170-2182. DOI: 10.3390/molecules24112170
Mamidipally, P. K., & Liu, S. X. (2004). First approach on rice bran oil extraction using limonene. European Journal of Lipid Science and Technology, 106(2), 122-125. DOI: https://doi:10.1002/ejlt.20030089
Matyash, V., Liebisch, G., Kurzchalia, T. V., Shevchenko, A., & Schwudke, D. (2008). Lipid extraction by methyl-tert-butyl ether for high-throughput lipidomics. Journal of Lipid Research, 49(5), 1137-1146. DOI: 10.1194/jlr.D700041-JLR200
Rashid, U., Anwar, F., Moser, B. R., & Knothe, G. (2008). Moringa oleifera oil: a possible source of biodiesel. Bioresource Technology, 99(17), 8175-8179. DOI: 10.1016/j.biortech.2008.03.066
Schwab, W., Davidovich-Rikanati, R., & Lewinsohn, E. (2008). Biosynthesis of plant-derived flavor compounds. Plant Journal, 54(4), 712-732. DOI: 10.1111/j.1365-313X.2008.03446.x.
Tanzi, D. C., Vian, M. A., Ginies, C., Elmaataoui, M., & Chemat, F. (2012). Terpenes as green solvents for extraction of oil from microalgae. Molecules, 17, 8196-8205. DOI: 10.3390/molecules17078196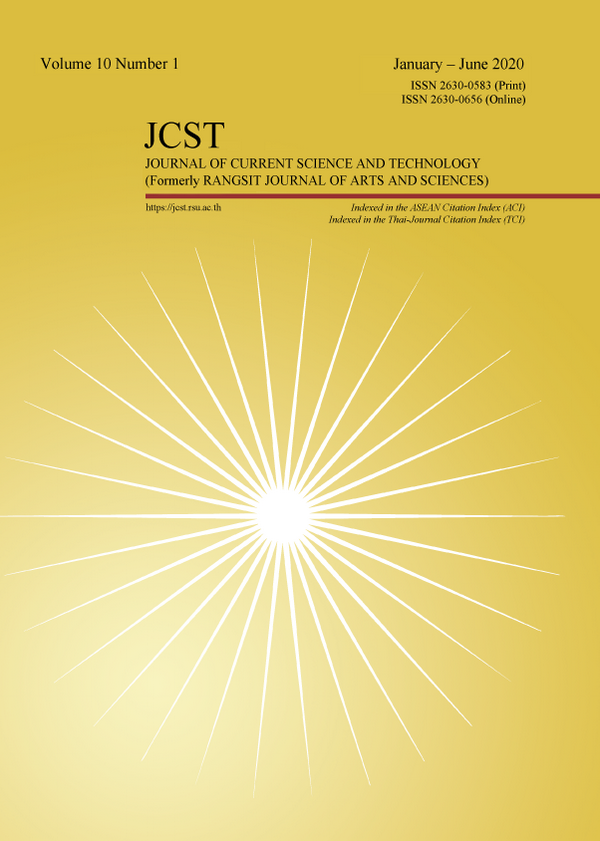 Downloads
How to Cite
Labua, S. ., & Kenkhunthot, T. . (2023). The extraction of lipid from microalgae found in brackish water by terpenes. Journal of Current Science and Technology, 10(1), 35–40. Retrieved from https://ph04.tci-thaijo.org/index.php/JCST/article/view/408
License
This work is licensed under a Creative Commons Attribution-NonCommercial-NoDerivatives 4.0 International License.